Techo-Bloc
Techo-Bloc is North America's leading manufacturer of innovative concrete paving products, including pavers, slabs, retaining walls, steps, caps, edges.
All products marry art and science to create high-quality, with cutting edge technology and thought engrained in the design and manufacturing process.
Today's Techo-Bloc Group comprises five production facilities in Canada, three new leading-edge plants in the USA, and six wholesale distribution centers located in Ontario, Ohio, North Carolina, and Massachusetts.
Since 1989, Techo-Bloc has dedicated itself to creating hardscaping products of exceptional functionality, strength, nd beauty – timeless products that blend seamlessly and harmoniously with the natural environment. Enduring quality an elegance, innovative design and application, resist de-icing salt and offer full color pigmentation.
These are the hallmarks of Techo-Bloc.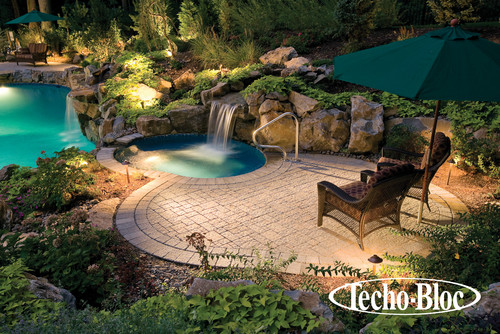 Techo-bloc products exceed all American and Canadian standards and include a Transferable Lifetime Warranty. Over the past 20 years, Company has been awarded 25 North American patents and trademarks for innovative concrete products and manufacturing methods. And the artistry continues…
Techo-Bloc pavers will never fade or lose their color because manufacturer do not use a surface face mix procedure,. They use iron-oxide pigments to achieve a thermodynamically stable and consistent natural color throughout entire stone. The iron-oxide pigments are resistant to the sun's rays and will not discolor over time.
You can rest assured that the use of de-icing salt will not damage the structural integrity of your Techo-Bloc paver. They are De-icing salt resistant!
The stone makes all the difference.
The cut, color, and craftsmanship of Techo-Bloc paving stones transform a house into a home. From a stunning new driveway to an elegant poolside and entertaining patio, from artful steps to picturesque walkways, wide variety of colors, styles, and patterns complement every architectural motif and can make any landscape design possible.
Sparta Block stock almost full line of Techo-Block products available at state of the art factory located in Pen Argyl, PA, but we can access all of the products manufactured in their facilities in USA and Canada.
Just call us or visit our showroom to give as a chance to present leading hardscape and masonry products available on the market today.  Sparta Block – (973) 729-6686
Techo-Bloc Delivery in Tri-State Area( New Jersey, New York, Connecticut and Pennsylvania)
Located in northern New Jersey, we service locally  delivery for Sussex County, Passaic County, Bergen County, Morris County, Essex County and Hudson County, but our boom trucks can deliver palletized  materials directly to the job sites everywhere in Tri–State area. For difficult to reach places we have our Forklift/Piggyback trucks on stand by.
For pickup Techo-Bloc products by contractors or homeowners please visit our yard in Sparta, NJ.
If you have any question call our main line 973-729-6686, we are always ready to help our customers!